According to research, female gun owners are more likely to have a gun that is loaded and easily accessible even when they are at home compared to male gun owners. It means women need to be more prepared for dangerous situations.
The first step to ensure your safety is to get a gun. The second step is shooting. You can get training if you don't know how to handle a gun. However, one crucial factor most trainers don't focus on is drawing the gun from the holster.
Do you know how to draw a gun quickly? If not, all of your training will be in vain. Not drawing the weapon from the holster at the right time or using the wrong strategy to draw out the gun can cost you your life.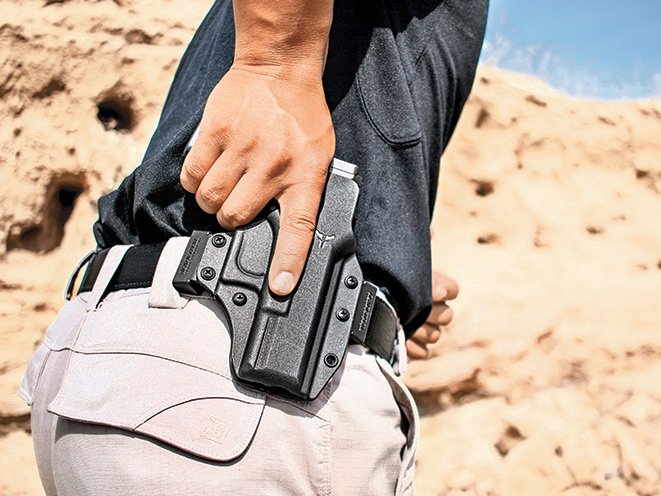 Here is all you need to know about drawing the gun from the holster.
What Is the Step-by-Step Process of Drawing a Gun from the Holster?
You can quickly draw the gun from the holster in four simple steps.
The first step is securing a tight grip on the weapon. Most women conceal carry. So, if you want to draw out the gun, reach out for it and grip it tightly. Use your second hand to cover your chest, which is usually the most vulnerable.
Once you are sure, you have gripped the gun, slowly take it out of the holster.
While taking out the gun and bringing it to point towards the target, lift your second hand from the chest and use it to grip the weapon.
Now that you have both hands on the gun, fully extend your arms in front of you and shoot your target.
How to Practice Drawing a Gun from the Holster?
Though most people learn it quickly, you will have a hard time understanding this basic tactic if you easily panic or get emotional in such situations. The key is to deal with your emotions calmly and practice as much as possible.
You can dry practice at home. Before you opt for dry practice, make sure your gun is not loaded. Cross-check multiple times to avoid any accidents. Also, don't place ammo in the room you use for practice.
Visit Fifty50 Official for More Gun-Related News and Tips
Are you looking for gun-related tips and tricks that can help you enhance your shooting competence? Visit Fifty50 Official.