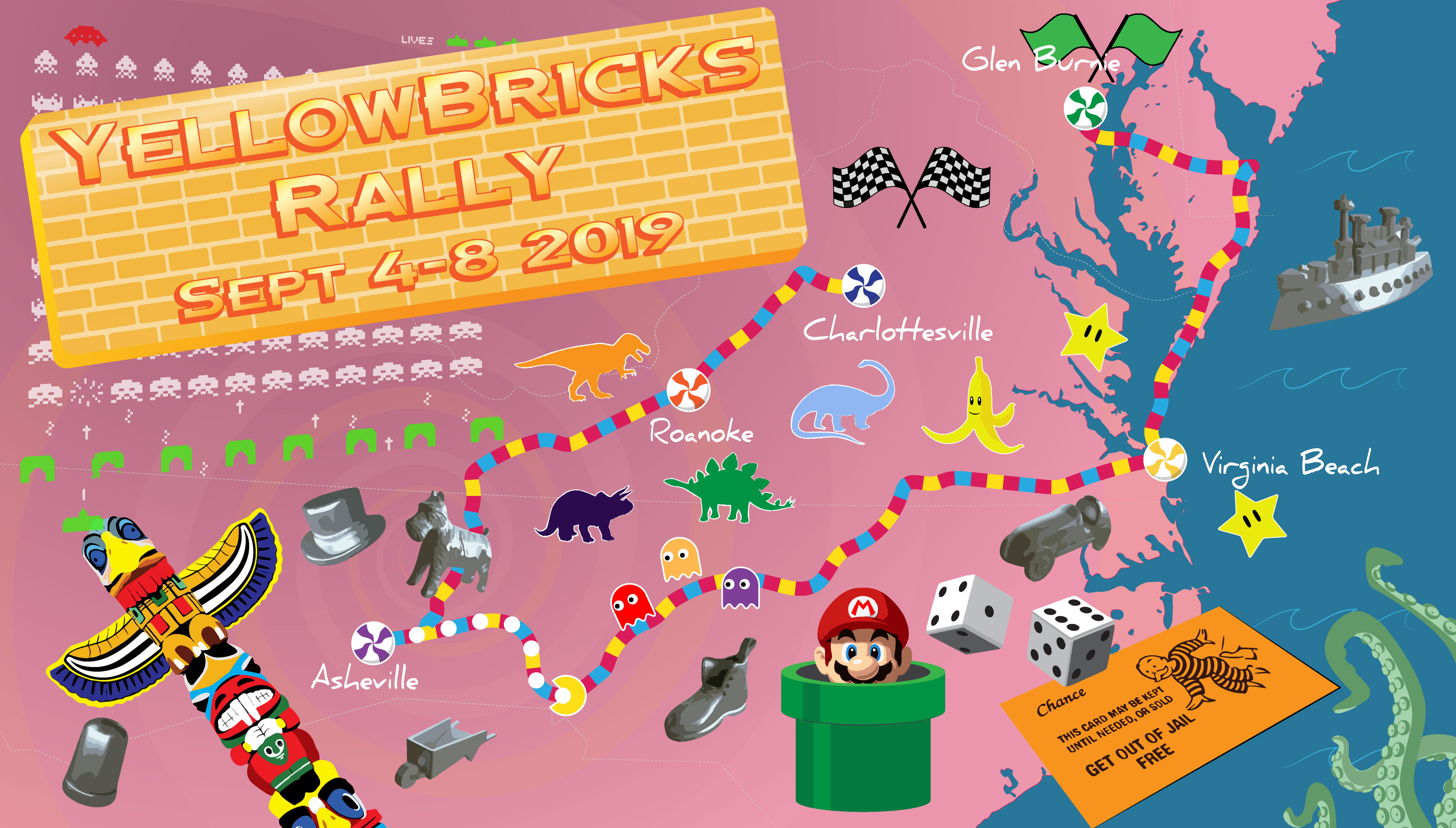 As always, respect yourselves and respect others. Take a shower. Comb your hair. Brush your teeth. Tell a stranger you love them.
Get Ready for Fifty50 presents YellowBricks…
September 4th – 8th  2019
September 4 – Glen Burnie, MD
Do stuff. Get some drinks. We start off here, we do vinyl packages, pre-rally taunts, maybe some heartfelt hugs. Then we proceed East towards the ocean. We see some things that might go boom. Maybe catch some ice cream at the beach. We take a tunnel or something in the Atlantic Ocean and appear in Virginia Beach.
There are go karts and things. And bars and drinks and I think there's an ocean around here some where.
Suggested drink pairing: to coincide with the sunshine, three states we touch, and the beautiful ocean views, we recommend Jack Daniels.
Hotel Recommendation: Hilton Virginia Beach Oceanfront  $174
September 5 – Virginia Beach, VA
Do stuff. Pay to get something uncomfortable / unsightly removed. Today we leave the beach to head inland. Except to be reborn anew and then proceed to grow up real fast as we find things that can really put a hole in someone's day. Maybe see somethings go fast too. Never know.
Suggested drink pairing: so much personal growth in the works, one has to be ready for anything. smooth out those edge with Jack Daniels.
Hotel Recommendation: Hampton Inn & Suites Asheville Biltmore Village $220
September 6 – Asheville, NC
Do stuff. Pay someone to tickle you?  We start perhaps with prayers to things we hold closest to the values of Fifty50. We end early at a special limited access event for a very special youngster.  Do not feed the animals. No matter how hard they work. Competition abounds. Bring it.
Suggested drink pairing: Nothing better than having a little bit of extra time to focus on the journey, our spiritual growth and the coming adventure, than Jack Daniels. 
September 7- Asheville, NC – COSTUME DAY!!!
Do stuff. Get some drinks.  Choose to express yourself in costume today, helping to uplift yourselves and others as you do. We will try to make our bodies healthier and repair anything we've done to them so far before we head to the special limited access event we've been looking forward to. Will they really be ready for us?!  A spirited journey follows.
Suggested drink pairing: After a long hot day in costumes, healing one's body and soul… you deserve nothing but the best.  On this 7th day, you deserve Lynchburg TN's Finest No. 7.
Hotel Recommendation: Hampton Inn & Suites Roanoke $119
September 8 – Roanoke, VA
Do stuff. Get arrested. The schedule is murky at this point. Do we push for broke or enjoy the day with our friends. At some point we'll eat, greet, and have an awards ceremony. We will hand out the coveted Spirit of Fifty50 award and the ever competitive Best Action Caught on Film. This year we have some special awards where we rank how you did growing and improving yourself with your second chance on the Yellowbricks.  Points may be awarded, deducted or ad hoc… you never know.
Regret your choices.  Make promises to never do this again.
Suggested drink pairing: You made it! or maybe you didn't. Either way, you got this far. Drink ten of these (can't you guess?) and you'll never need to worry about that morning meeting.
Sign up today!
We absolutely do NOT advise you to participate. In fact, we think you should turn off your device and never look at it, or this website ever again. Wash your hands, behind your ears and your mouth out while you're at it. More details, including a way to actually sign up are coming.
Returning Fifty50 Rally Family $303. Newbs: $508. Includes two tickets to two limited access events. A sticker/branding pack. Getting to know people you'll never tell your family about.  Limited slots. Rooms/transportation/bad decisions are all on you.